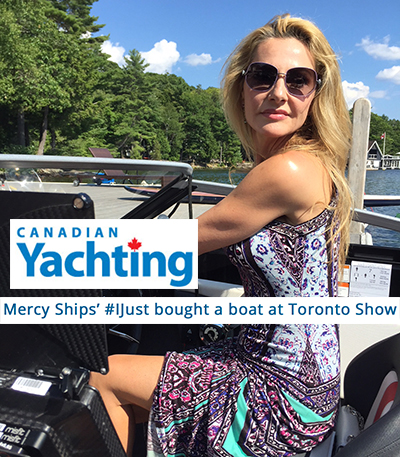 15 Jan

Mercy Ships' #IJustBoughtABoat at Toronto Show
Joan Kelley Walker
This year at the Toronto International Boat Show, Mercy Ships Canada will give visitors the chance to buy a boat through a digital experience.
Technically, visitors won't be buying a boat, but rather a ship—Mercy Ships. Mercy Ships operates the world's largest volunteer-run floating hospital ship, delivering free life-saving surgical care to the world's most impoverished communities. With the help of its volunteer surgeons, doctors, and nurses, Mercy Ships has helped transform the lives of more than 2.42 million people in the poorest countries of the world since 1978.
Show visitors can learn more about the charitable organization and how to donate by visiting the "I just bought a boat" interactive exhibit at TIBS and create their own masterpiece for sharing. Through a digital photo booth, visitors can buy the boat for $20 or their best offer, name it, pose with it, and then instantly share their custom picture on social media—all the while transforming a life in the process.
READ FULL ARTICLE