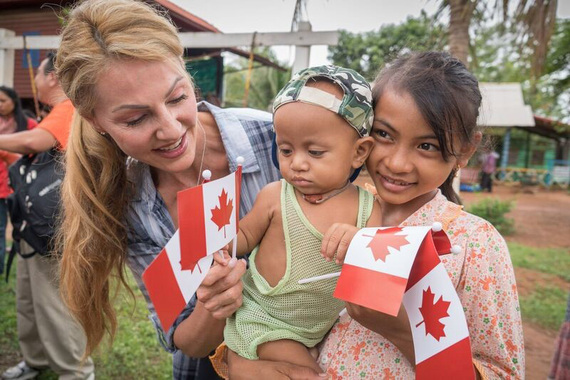 28 Sep

How Canadians Are Making A Difference In Cambodia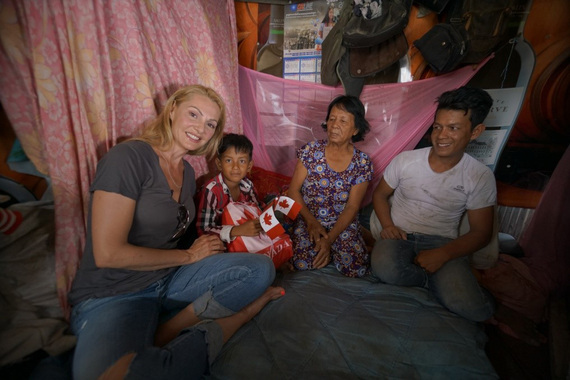 I got to meet eight-year-old Sileap and his family in their home. Photo: Joan Kelley Weisshaar Walker
As a child advocate, I recently had the opportunity to travel to Cambodia to see some of the work World Vision is doing to make a difference. It was the first time I took my sons to see how many people in developing countries live. I tracked my experience in this travel journal. This is the second of three parts.
Read Part 1 of Joan's travel journal.
Day 3: A Diet of Rice Water
Despite the heartbreak I witnessed in Cambodia, there were some bright spots. A big one was that I got to spend time with the eight boys we sponsor in that country. Sileap is one of those children.
 Although he is eight years old and in Grade Two, Sileap could easily be mistaken for a five-year-old.
Sileap has been stunted because of malnutrition. He is a bright and charming child with a family who loves him, but poverty and his parents' lack of education about nutrition are contributing factors to his challenges.
 I visited Sileap's home where his father told me that when Sileap was a baby, there was not enough food to go around. Sileap was fed the water from boiling rice.
A father's dream
Sileap's father and I chatted about how challenges are the same all over the world, how hardships reach everyone and how fathers like him have burdens and struggles.
 He was very emotional when he was telling me the pressures that are on him. He has three children, he cares for his parents and family and he works in construction. But it is not consistent enough to support everyone in his care. He knows that World Vision is new to his area but he understands the benefits for his family.
This father's dream is for Sileap's health to get better, for his boy to be happy in his life and for Sileap not to struggle as he has.
The saving grace was the hope in this father's eyes when we talked about World Vision's help. Many of the families I spoke to know that World Vision will make things better.
I can't even find words to explain how thankful I am to be able to be here, to share and to help care for these people. I am here to witness first-hand the amazing work World Vision is doing to connect with people who really need help and to make a plan.
Meeting our sponsored children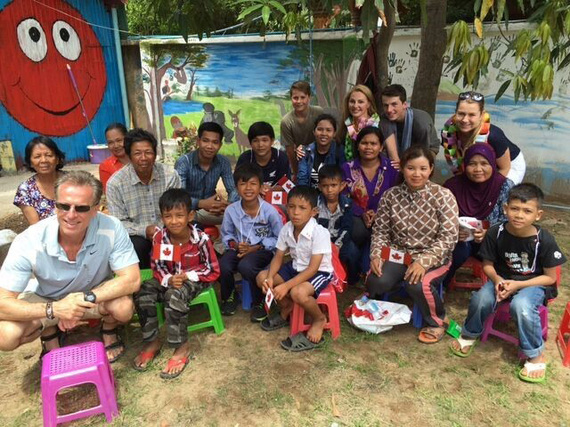 My husband and I met the children we sponsor and their families. Photo: Joan Kelley Weisshaar Walker
My family sponsors eight boys through World Vision in Cambodia. I was so excited to meet them!
The children range in age from eight to 16 years old. Each child had a parent, grandparent, or aunt accompanying them. We sat under a tree and had a long conversation, facilitated through a translator.
I have to say, I was surprised and impressed at the high level of focus the children kept while we sat and talked. All the boys, even the youngest ones, were listening, interested and asking questions.
We asked what they wanted to be when they grew up. The answers ranged from engineer, doctor, police man, movie star, to teacher.
The boys brought me gifts including a vase, fruit that grew in their yard and some baked goods. I brought them a bunch of stuff with a Canadian theme like a big towel, a Frisbee, notebooks, pencils, tin mugs, back packs all with maple leafs on it. I also added a dream catcher with a Mountie on it and tooth brushes!
The biggest hit was the Frisbee, by far. I was surprised they didn't know what it was, but they had fun trying and caught on quickly. It was so inspirational to watch my own children playing with my sponsored children! I loved it, what a great day!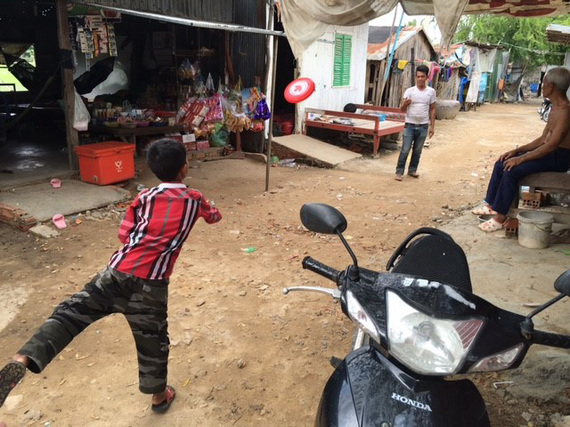 We had a chance to teach our sponsored kids to play Frisbee. Photo: Joan Kelley Weisshaar Walker
Day 4: Angkor Wat
Strolling around the ruins of ancient Angkor in Cambodia, I see more evidence of the Khmer Rouge. (In case you missed Part 1 of my journal, they were the communist party who set up policies that produced repression and massacres on a massive scale).
There are countless artifacts, religious statues and decorative pieces missing here. They were removed by the leader of the Khmer Rouge during the war to sell on the black market.
Previously, these artifacts sat un-vandalized for hundreds of years. The ones that were stolen were the most detailed ones: some with diamonds in the eyes or jeweled embellishments. Now these pieces are scattered all over the world, some in museums and in private collections.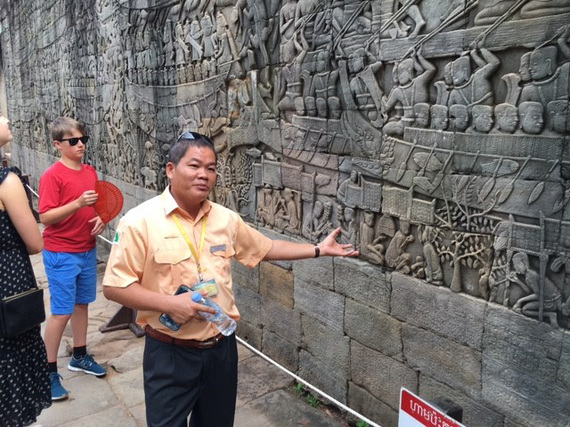 Touring Angkor Wat where our tour guide Thom (whose name has been changed) spoke about the effects of the Khmer Rouge and Cambodia's hopes for a bright future. Photo: Joan Kelley Weisshaar Walker
Our guide, Thom (not his real name) says this vandalism makes him feel bad. "We try to get (the artifacts) back. Some want to give them back but our government needs to produce records to show they belong to Cambodia," he explains.
Thom was only three when the genocide started. His father was named Lou. Lou worked in an office, was well-educated and spoke several languages: a perfect target for the Khmer Rouge. Lou was murdered early on in the war, leaving Thom, his mother and sister to be jailed.
Thom's sister died of starvation. His mother survived, but was so devastated that she never spoke of her daughter to Thom. To this day he doesn't know his sister's name.
Thirty-seven years of war is too long, says Thom. "My dream for Cambodia is for the next generation to be better educated to build this country to a better place."
The key to progress
Sources tell me there are about 1400 NGOs in Cambodia. Some, like World Vision, are very productive. They hold the systems accountable and are improving conditions. They work with the government and community to build skills and capacity. They help government and communities to interact in a way that is sustainable, and to support people in gaining skills to shaping their own futures.
That is why I am happy to see World Vision is present here — especially when children's well-being is at stake.
READ FULL ARTICLE