27 Apr

Why I Give: Volunteering Is A No Brainer

by Joan Kelley Walker

Being Thankful

It seems like a no brainer. Supporting charitable organizations and doing acts of kindness is the right thing to do. Most people get that. My family and many Canadians are very privileged. I feel we have an obligation to give back, to "pay it forward." People like to contribute. It is a great example for your children and the starting point of important dialogue.

Personally, it makes me feel good to give, to help, to support. In my hour of need, I hope others would help me in return. That's how I see the world: an interconnected network of ever changing circumstance. An ebb and flow within a fabric of leaning on one another for the greater good.

Canada is known throughout the world for having this capacity. It starts with its citizens. One friend shared with me that she remembers not having much and how terrible she felt. She wants to give back now so that others can have what she did not.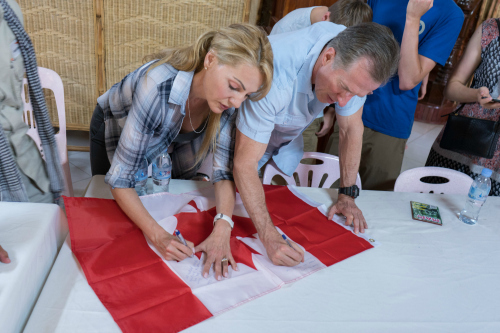 The author and her husband are grateful to be Canadian givers. (Photo/ World Vision)
My values are humble and simple. I recognize that I am fortunate and I give thanks every day. I live in this beautiful country. I am healthy. I have capacity to reason and work. I value that we have the ability to make choices in our lives. I choose to focus on compassion and kindness. These are values that contribute to the world and fill my heart.
Making Choices
If you do good in the world, good comes back to you. It is important to align yourself with initiatives that you have a direct connection with. That way you get your heart involved. Don't just support the charities that your friends support.
You should do your research, do your homework. Ask the big questions such as: How does this make me feel? Where does the money go? How much overhead is there? How can I be sure my time and money is well spent?
I think fundraisers, charities and especially galas should be transparent. They should disclose costs, how much money is raised and how that money is spent. Are the galas, fundraisers and charities affecting change?
Our family has a list of criteria that we use to evaluate which organizations to partner with. The list depends on whether it is a local/community based initiative or an international charity. For example, our list for international giving includes giving to organizations that promote human rights. We support organizations who believe in gender equality and promote healthy family relationships, no matter what the structure of that family may look like. We focus on clean water, nutrition, education and skills training.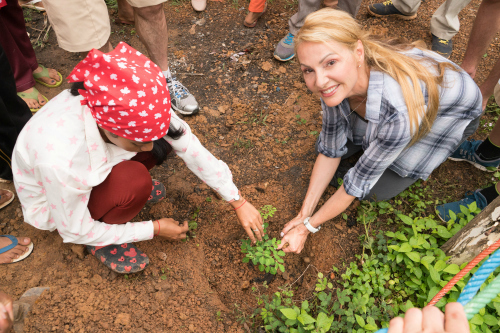 The author gets hands on with some World Vision projects in Cambodia (Photo/ World Vision)
I have been incredibly blessed to visit many of the communities we support around the world. The most satisfying moments are when you can see that the work is making a positive impact.
For local initiatives, volunteering is the best way to get to know an organization and the people within it. Then you'll have a strong platform to decide how you want to lend your support.
Looking In
Once choices are made, communication is key. To withhold it is detrimental. Miracles happen in all walks of life when we communicate with honesty. Some people appear to "have it all" but are spiritually bankrupt.
I choose to search within, to discover myself, to challenge myself, to understand and evolve. It's not always easy but I try! Everything I say or do has a massive impact. That goes for all of us. Each individual has a powerful voice. How do you choose to use your power? Sometimes effort is as important as outcome.
For me, I default to compassion. I empathize. I take responsibility. You never know how bumpy the road will be but I keep trying.
You don't have to be strong all of the time. It's okay to make mistakes. That is bound to happen, it is part of the ebb and flow of life. But when you have your feet under you, when you have your power and strength, be responsible and resourceful with it.
No one ever became broke by supporting a charity or doing acts of kindness. Do what you can, according to whatever means you have. It doesn't have to be a grand gesture; in fact, sometimes the smallest acts of kindness, simple things, have the most impact.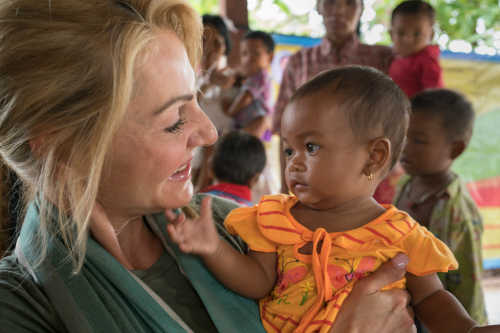 The author with a child at a World Vision nutrition centre in Cambodia. (Photo/ World Vision)
Giving back is a crucial mind set. It's all about balance within our lives as individuals and as a society as a whole. For me, the most important thing is supporting children to give them the best possible opportunities. This is the torch I carry and by leading by example I hope to inspire people to do the same.
If any of the above resonated with you, here are my favourite ways to give back:
1) Sponsoring a child with World Vision
2) Volunteering time at a school or church
3) Choosing a cause and learning as much as I can about it. Then being creative and thinking outside the box to create my own way of giving back
4) Letting people know how much I appreciate it when they give back with genuine kindness
5) Helping my neighbours
READ FULL ARTICLE