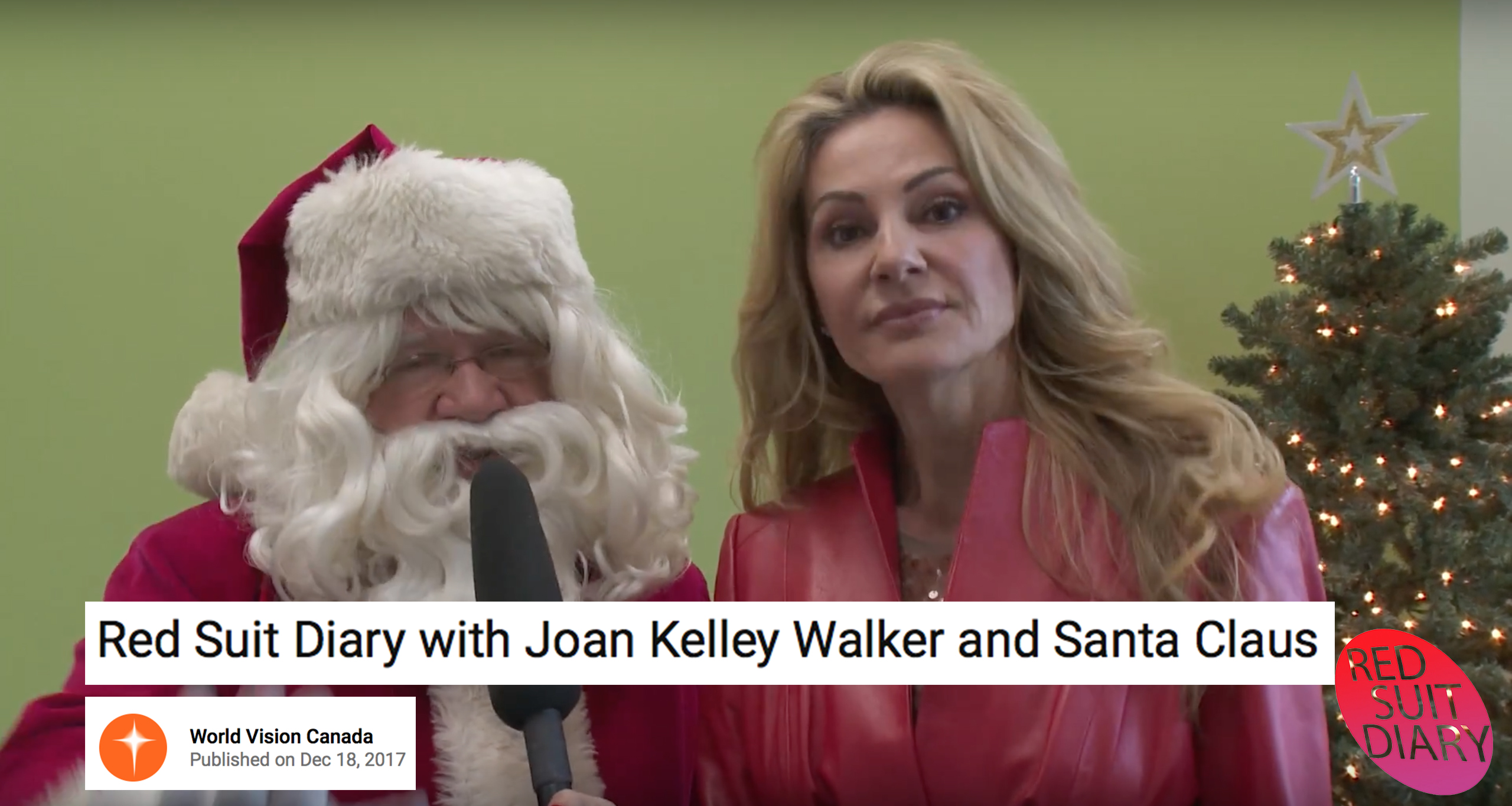 20 Dec

Red Suit Diary – An interview with Santa Claus
Boys and girls dream about him. Parents want to be like him. We all love him and he is one of the warmest people I've ever interviewed on a red carpet. Of course, I am talking about the man himself, Jolly Old Saint Nick, Santa Claus.
Here are some highlights from a recent interview I did with Santa, full of special insight into the inner workings of how he makes Christmas magic happen and why he is a friend of children everywhere:
JKW:  I can't help but notice we kind of match. We both have our black boots… So, who are you wearing, who designed this, who made it for you?
SC: Well, today I'm wearing an exclusive from Mrs. Claus. She wants to make sure I keep nice and warm year-round.
JKW: I'm sure it's very cold up there. So, lets talk about this, now there's magic at Christmas, how does that work, how do you make the magic happen year after year?
SC: Well it is the boys and girls around the world and it's their smiles and their love and hopes and dreams, of course. And all of us can help them achieve those hopes and dreams at the same time. It's really wonderful, it's a wonderful thing to give to other people.
JKW: What is your favourite gift to give?
SC: Oh, that's a great question. I get lots of letters around the year from boys and girls, they want cell phones, and video games and skateboards, and bikes and everything like that.
JKW: I'm just wondering, why is it important for the rest of us to give?
SC: I feel great on Christmas, because when I deliver presents, I see smiles on people's faces, whether I deliver their cell phone or their skateboard or their bike or whatever. But what Mrs. Claus and I do, we like to shop around, we go online, and we also check out the World Vision Gift Catalogue.
And when we do, we make sure that we have as many gifts that we could possibly give to people around the world, that they can enjoy for years on end.
JKW: Wow! Now, the World Vision Gift Catalogue, they have all kinds of things in there that you can buy to send to people, like chickens and pigs and cows and even an alpaca. Do you have a favourite?
SC:  Whatever animals anyone would like to purchase from the Catalogue, I will make extra room on my sleigh, because it's important they're delivered. So, my favourite animal, you know they are all wonderful, because they are all important, whether it's the chicken, or the goat or even the cow or the alpaca.
JKW: Do you ever worry that the goat might tear into some of the presents that you've so carefully wrapped?
SC: No, no, no. I make sure the goats are well fed before they go on the trip.
JKW: This year, I'm going to ask for an Alpaca from the World Vision Gift Catalogue. Because I think an Alpaca is so cute and it would just be so adorable on your sleigh. Is that ok?
SC: Absolutely! And I'm sure the other animals wouldn't mind. Ho Ho Ho.
JKW: Now, before we let you go, do you have any last comments for the boys and girls?
SC: Well, it is really, extremely important, especially this time of year, but all the year round, to give as generously as you can. Give generously, whether it's your time, or maybe if you want to purchase something, and put a smile on [someone's] face… it makes Santa happy, and you could be just like Santa too, every day of the year. And remember, stay on the nice list! Ho Ho Ho.
Well, there you have it. Wise words from the man himself.
I've never been so motivated to stay on the Nice List and to "give like Santa every day of the year".
Santa, thank you for sharing! Have fun with all the goats and alpacas.  Merry Christmas!