27 Nov

How A Couple In Their 90s Is Helping To Care For The World's Children

by Joan Kelley Walker
  Dani and John with pictures of the children they sponsor through World Vision. Photo courtesy of the Gattinger family.
There's nothing I admire more than a couple with an enduring love and a commitment to giving back. Such is the case of John and Olga Gattinger. They are in their 90s and are soon to celebrate their 70th wedding anniversary! Perhaps the best part of the story, like most, is the journey…
They grew up during Canada's Great Depression to immigrant parents from Austria and Ukraine. Olga, who prefers to be called Dani, experienced extreme poverty while growing up, often without enough food to feed the large family.
Dani went on to meet John, a WW2 soldier and the couple married in 1946, the year after the war ended. It seems to me that Dani would have experienced the entire gamut of emotions in her life leading up to her wedding day. Of course there would be the excitement of falling in love, but before that, much of her life would have been filled with fear for herself and her siblings, pain of loss, hardships of being hungry, and the anguish of war. Thankfully few of us alive today in this beautiful country will ever face one of those challenges, let alone the whole range at once.
The couple on their wedding day. Photo courtesy of the Gattinger family.
It's a deep esoteric question but it makes we wonder how some people are able to approach life with such a positive attitude, joy and compassion despite extreme difficulty. Here is where Dani and John excel.
After they married, life became more stable. Instead of survival, Dani's passions developed. They had five children. Dani was able to travel and see the world. They developed a list of priorities including helping others, in a tangible way.
It all started when Dani travelled to Cambodia and witnessed harsh poverty that she had herself experienced. "During the years of 1971-1990 I travelled the world to learn firsthand how the children of the world were faring. In a nut shell, Oh my! These children are poor just like I was growing up and they need help. The question is, how can I help?" She continues, "the need to help poor children is great and my prayer is that many who read this article will pitch in to help the poor children of the world."
One of Dani's greatest joys has been watching her own children grow and be educated, followed by her ten grandchildren, eleven great-grandchildren and one great-great-grandchild. This is a very large family by most standards but Dani, following her passion, decided to "acquire an extended family."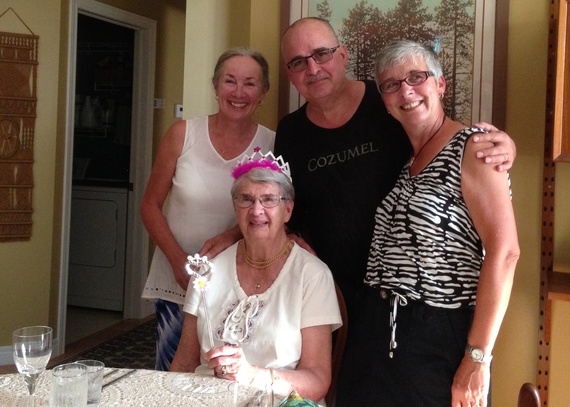 For the Gattingers, their children here in Canada are only the start of their family. Photo courtesy of the Gattinger family.
Dani explains "in 1975 I started my extended family with one child. Over the years I have increased that to six, the current number I now support. Throughout the years, many have come and gone, so to speak, as they have grown up, each one has brought great happiness to me and my husband John. The joy goes on and on but could not have happened without the great planning, assistance and development of World Vision."
In the last month, Dani and John received two annual reports, one from their sponsored child in Romania and another from Jerusalem West Bank Gaza, "the pictures alone are enough to bring tears to my eyes. I have been with them, and they with me, since their early childhood and now in their teens and although I've never met them personally, they are mine" Dani shares.
For her 90th birthday, World Vision helped to put together a framed birthday card featuring a picture of each child, which Dani and John refer to as their grandchildren. "It's the treasure of my life" she says "and is reflective of the joy working with World Vision and at the same time helping the poor as I was at one point in my life."
Thank You Dani for your lifetime of inspiration and happy 90th birthday! Congratulations to you and John on your 70th wedding anniversary!
READ FULL ARTICLE