02 Apr

Juno Contenders The City Harmonic Live What They Sing

by Joan Kelley Walker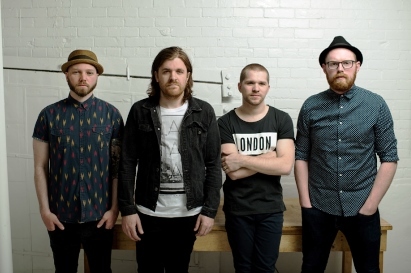 Eric Fusilier (Bass, Vocals) Aaron Powell (Guitar, Vocals) Elias Dummer (Lead Vocals, Piano) and Josh Vanderlaan (Drums) are contenders for a Juno this Sunday night. Photo courtesy of The City Harmonic.
The 45th annual Juno Awards will be broadcast this Sunday, April 3, from Calgary. The Junos highlight Canada's very best musical talent in many categories, including Contemporary Christian/Gospel Album of the Year.
One of the contenders in this category is Hamilton, Ontario's own band The City Harmonic. The band is composed of four worshipers from four small churches who began by singing hymns and spiritual songs.
Since then, The City Harmonic is no stranger to success, having won its first Juno in 2013. I enjoyed a candid and interesting conversation with two of The City Harmonic's members, Elias Dummer and Eric Fusilier.
 Joan: In 2013 you won your first Juno for Contemporary Christian/Gospel Album of the Year. What did winning a Juno do for you as a band?
Elias: It's great because the Junos are an internationally recognized thing. Especially as a worship band, to be in a space where the rest of the world can talk about it. It's been an honor to play a role at all. It's the sort of thing we never expected.
Joan: What is the difference between being a Christian rock band and a regular rock band?
Eric: Christian music is an industry in its own right, and sets a different career track than other bands might take.
Philosophically, art is a creative process where we can express ourselves. There's no difference between art of a regular band or our band except through our purpose, that we are directing our art at God.
When we participate in the creative nature that we are created for, we see God there. There is a common thread in the way that we experience art and beauty, it's all sourced in God.
Joan: What is The City Harmonic's process of creating music?
Elias: I tend to write something every day. Going into this new record I had about 145 voice memos, we call them scratches. We sift through them and work on lyrics once we understand the emotional space we're going for.
Joan: I'm always interested in how artists use their talents to help children in need or other important causes. What has The City Harmonic done to have your career in the arts impact the world around us?
Elias: We're trying our best to represent what World Vision is doing. A lot of our work has been around equipping local churches to work together better. We spent last fall encouraging groups of local churches, talking to them about how they can impact the world around them.
Joan: Can you share an example of an experience you've had with your charity work that was particularly important to you?
Elias: We were in Guatemala and met a young boy named Jose who had been born without the ability to speak — he was tongue-tied. Jose had surgery. World Vision helped him get through that whole process even though he didn't have a sponsor. I loved how the staff took care of the whole community. Now the band sponsors Jose.
Eric: I was quite ill (just before that time) with leukemia, so I was sidelined. When the leukemia was finally in remission, our band got the opportunity to go to Guatemala, the doctors advised me not to go. Still that whole experience was hugely formational and shaped me in powerful ways.
I heard my bandmates' stories when they came back, saw the experience through them. I got to hear the passion coming from all the guys and how excited they were – and I got to partner with them to sponsor Jose.
At the same time I had this overwhelming realization that if I was born somewhere else in the world, and got as sick as I did, I would be dead right now. It was a double whammy, experiencing what the guys had seen and the powerful realization, first hand, of how important all this work is.
Joan: Did you ever expect to enjoy the incredible success that The City Harmonic has had?
Elias: Oh man, no. For us, we weren't 21 — most of us were married with kids and this was kind of our last kick at the can. We didn't expect success so quickly.
Joan: Right now you guys are going through some real changes. Can you tell me a little about that? How are you feeling?
Eric: After the leukemia went into remission, I was well enough to travel with the band again. It was a testing period to see what my body could handle; I'm essentially rebuilding my immune system. There have been some difficult side effects and long-term effects from my transplant and some of the medication.
In 2015 we were on the road for a long time, and it was a tough pace. At that point I realized I couldn't keep going. It also highlighted to me that I wasn't feeling as called to the band as I used to be.
I started to get involved in local worship and God is really calling me there. It was a really hard decision. But when I sit with it, I have a great sense of peace.
Joan: What's next for you, Eric?
Eric: I am going to continue to work with the local church, and be intentional and missional where I live. It's about being with God and trusting him. I'm not certain about what is next, but feel that God is fully in control. I hope that even if I am not in the band I can still connect with organizations like World Vision, and speak about causes that are important to me.
Joan: What is next for The City Harmonic?
Elias: Right now we're in a season of trying to figure that out ourselves. We have a few concert dates in Canada, a trip to Europe in May and some summer festivals.
Joan: I'm sure Jose thanks you for your sponsorship; we thank you for your music and inspiration. We all wish you the best of luck with your nomination this year at the Junos, and pray for continued health.
READ FULL ARTICLE