06 Dec

Rinkside With Cheryl Bernard

by Joan Kelley Walker

If you loved watching the Olympics in Vancouver, or if you enjoy watching curling, I am sure you are a fan of 2010 silver medalist, the skip of our Canadian Women's curling team, Cheryl Bernard. I caught up with Cheryl for a quick chat.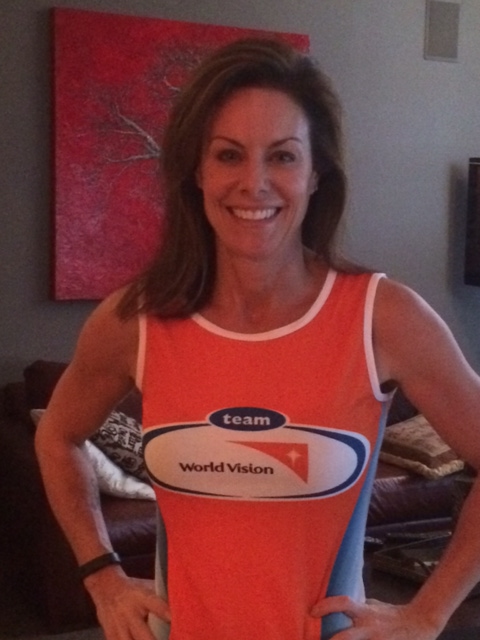 J: We all know you as the 2010 Winter Olympic Silver Medalist. What is it like to represent your country in the Olympic Games?
C: That's such a hard question to answer. It was beyond what we or anyone could have imagined. It was a lifetime of dreams come true for our entire team. I remember, well I am sure we will all remember, standing on the podium that day to receive our medals and I don't think any of us just saw a shiny piece of medal. We saw our vision and what it took to achieve it. We saw our husbands, children and coach and the hours of support they provided behind the scenes. We saw our parents and our friends and their understanding when we couldn't give them all the time they deserved. We saw early morning practices and late nights pushing ourselves and each other to that next higher level. We saw thousands of emails of support from people across Canada we had never even met. But mostly we saw each other and a dream realized.
J: This year your team lost in the qualifiers. How did you feel about that? Is it all part of competing in sports?
C: When you are competitive it's always tough to lose. I don't know any team that is ok with it. But when you put yourself out there… that is the risk. So we are down for a while after, especially getting so close — but then you realize why you play the sport — because you love it and you get back up and go after it again. A healthy perspective is necessary for a healthy athlete… they go hand in hand.
J: Have you made a decision about the future of your curling career? Could this be your last year curling?
C: That's a tough question for me. I can say for certain there are no Olympics in my future. I just can't take that time away from my family, friends and life anymore. And I have a long list of things I want to do — so I need to get started! I may play next year at a reduced level… and try to compete for a Scotties, as that is one event I desperately want to get back to. I may introduce a new challenge and play third for a team — that challenge of a new position and the physical aspect of sweeping gets my juices flowing. A final decision will be made in the next few months…
J: It seems you have a lot of possibilities in front of you right now. What are you hoping for in the future?
C: Jam-packed is what I hope for! That is just me — I go all out. But I promised my father whom I lost to a brain tumour a few years prior to the Olympics that I would do something worthwhile with the silver medal. That it wouldn't just be left in a case on the wall to be admired. That I would help raise awareness for those without a voice. So I am doing that in a small way with World Vision and trying to give a voice to vulnerable children in developing countries. I also help the Alberta Children's Hospital Foundation and the Children's Miracle Network, as well as the Humane Society whenever I can.
In the curling arena I am representing the World Curling Federation. My husband Terry Meek (who is a level 2 coach), and I are heading over to New Zealand in March to promote the game there for 10 days.
I will hopefully do a bit of commentating down the road on a small scale. As well I am doing some work with RBC Insurance going forward and will continue to do keynotes across the country talking about the parallels between life and sport, preparation and striving for "excellence" in everything you do.
J: I am sure you are super busy plus you are in the middle of training for a big 50k marathon in Calgary this June! How are you managing to continue your training while covering the Olympics in Sochi?
C: Well first off I am only doing the 42km marathon… the 50k is in honor of the golden anniversary of the race. And this will be the first marathon I have ever run — so 42k is all I have! As far as Sochi goes, I actually declined to go in December. Mostly because of work commitments — it was going to be so much time away from my husband and I had a bunch of speaking opportunities come up that I just could not turn down. So the only trick now will be training for the marathon in New Zealand in March — but the sun and water will help! LOL!
J: Why is this marathon in June so important to you that you agreed to be the co-chair?
C: It's twofold. I love this city — born and raised in Alberta and I've been in Calgary since I was 6 months old… so I am always very proud of the events we hold here. And this being the 50th anniversary really appealed to me. The other reason is that it is my hope to motivate others to run their first 10k, half or full marathon and also to run for a charity they support. Make a difference in your health and at the same time raise awareness. I can't imagine NOT running for something — it will make it so much more gratifying and meaningful at that finish line!
J: When you do the marathon, you will be wearing a Team World Vision jersey. What does that mean to you?
C: It will mean that I will finish and I will not stop until I cross that finish line, because I am running to make a small difference for vulnerable children. If each one of us just became a little more aware about choosing ethical products, chocolate, coffee, tea, etc. and understanding that by doing that one small thing we can reduce child labour and trafficking it would be huge.
J: Any advice for Jennifer Jones and her team?
C: Her and I spoke prior to her and the team heading to Sochi… they are great medal hopes for Canada and they have it together. They have a great perspective, they are in a good place and they have a goal in mind for these games. There wasn't much I could say other than to really guard the culture they had created with their team. It was what got them there and it will be what gets them onto that podium.
J: Where do you keep your Olympic medal?
C: LOL! Everywhere! Which has been a problem at times. Just last week I went to get it to fly to do a motivational talk and couldn't find it! I hunted through 2 briefcases, in my sock drawer, ripped apart a suitcase and finally found it in my truck.. .My husband has a fit every time he hears the words "have you seen the medal?"
J: Cheryl thank you so much, it been a pleasure!
READ FULL ARTICLE